While at the optometrist or during your day-to-day, you may have heard of myopia. Maybe you heard it by a more common name, nearsightedness. It's one of the most common vision conditions, with about 30% of Canadians having it in one form or another, and one of the conditions we look for in an eye exam.
Myopia is a refractive error in which a change in the shape of the eye affects how light is processed into an image. For many people, this condition can be managed with specially-made glasses or contact lenses.
But if left to progress on its own, myopia can become a more severe issue called high myopia. While some cases of high myopia can be treated with eyeglasses or lenses, some may require refractive surgery to correct.
What is Myopia?
No matter the severity of someone's myopia, it all has the same physical source. The eye has become shaped in such a way that light no longer focuses on the retina.
As light rays pass through our cornea and lens, they converge at the back of the eye on a group of cells called the retina. When there is more distance between the retina and the cornea, these light rays instead come together in front of the retina. As a result, distant objects appear blurry, while closer objects are more in focus.
Myopia normally first appears in young children, which is why it is suggested to have regular eye exams. This is especially true for children who have parents with myopia, as the condition is inherited. There are also environmental conditions that could lead to nearsightedness, including too much screen time, focusing on things up close, or not going outside enough.
The Dangers of Untreated Myopia
Eyes continue to grow as we do. That means for children, who are growing, care must be taken in assessing eye health. If the eye continues to elongate and become more oval, myopia could progress into high myopia.
High myopia can cause several vision problems, including difficulty seeing objects at a distance, eyestrain, and headaches. In some cases, it can also increase the risk of certain eye diseases, such as:
Retinal detachment
Glaucoma
Cataracts
Macular Degeneration
With proper myopia management, however, this progression can be slowed or even halted. For most people, myopia will stabilize on its own around the time they're 20. But for younger children, the sooner myopia is detected, the sooner your optometrist can develop a treatment or control plan.
How is Myopia Measured?
Testing for refractive errors is an important part of any comprehensive eye exam. Since myopia is an error in how your cornea refracts (bends) light, an eye doctor will normally perform a refraction test. This will determine not only if you need a prescription, but how strong that prescription needs to be.
You will be asked through to look at a device called a phoropter. This is a large mask-like device with a series of lenses of different strengths. The eye doctor will then present you with a letter chart and go through the different lenses, asking which one appears clearer. This process is repeated until the optimal lens strength is determined.
In the end, you'll have a degree of myopia expressed in a negative number. This starts at -0.25 and goes up from there. The higher the number, the more severe the degree of nearsightedness, with high myopia usually defined as a refractive error of -6.0 or more.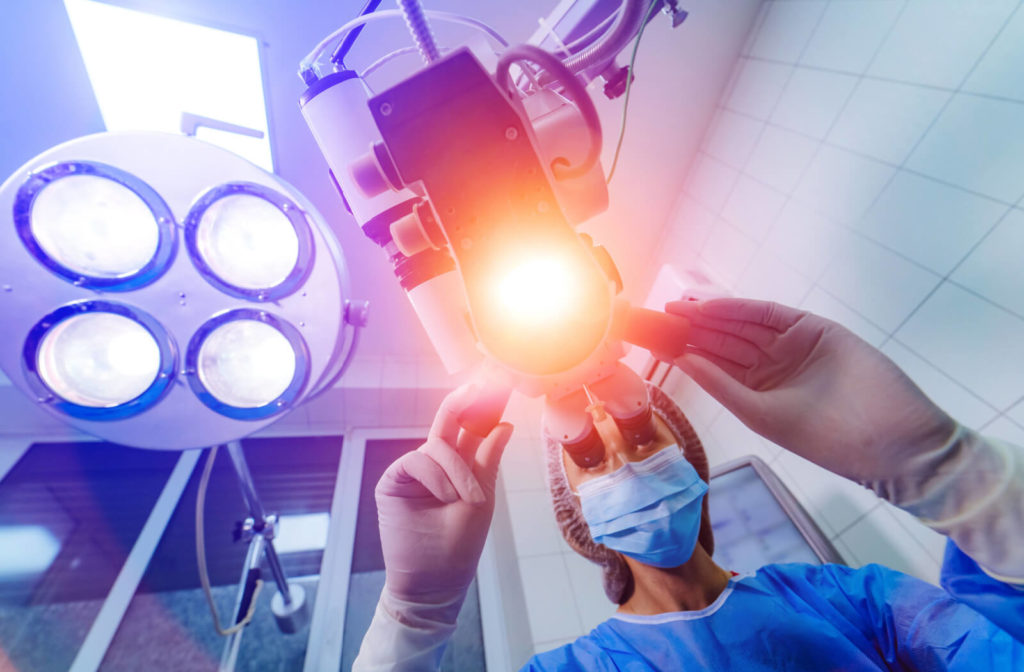 Types of Treatment for High Myopia
People with high myopia need to follow their optometrist's recommendations for treatment and management of the condition. Early detection and treatment can help prevent vision loss and other complications associated with high myopia.
This includes a variety of surgical and non-surgical options, depending on your specific needs or vision health conditions:
Eyeglasses and Contact Lenses
Eyeglasses or contacts are a popular choice for myopia management. While they can correct your vision due to refractive errors, they don't fix the underlying cause of the condition.
For children whose myopia is still progressing, some multifocal lenses are specially designed or contact lenses can be prescribed to slow the advancement. This can possibly stop myopia from progressing into high myopia. In some cases, medicated eye drops are prescribed for children who are at risk for progressing to high myopia.
LASIK
In this type of refractive surgery, your cornea is reshaped using a laser. For LASIK, this involves removing small amounts of tissue from the inner layers of the cornea. A section of your cornea is gently lifted back, allowing the laser to do its work, before being replaced to heal.
Photorefractive Keratectomy (PRK)
As opposed to LASIK, photorefractive keratectomy (PRK) works on the outer layers of the cornea. A laser is run along the surface of your eye, changing its shape and allowing it to better refract light.
Since both PRK and LASIK involve the removal of tissue from the cornea, they are both limited by the amount of tissue that can be removed. Those with already thin corneas may find these types of surgeries unavailable.
Choosing the Best High Myopia Treatment for You
it's important to receive regular eye exams and follow treatment recommendations to prevent vision loss and other complications. As your eye care needs are different from the next person's, it's best to develop a personalized treatment plan with your doctor.Whether that treatment is eyeglasses, contact lenses, or refractive surgery, Whitby Family Eye Care believes in treatment that puts your eye health first. If you have myopia and you're curious about treatment or control options, book an appointment with our team.