Contact lenses help you see clearly without needing glasses. These lenses can provide long-lasting comfort and clear vision, but does this comfort last overnight? Can anything happen when you sleep with your contact lenses in?
Since contact lenses directly touch your eyes, wearing them can put your eyes at a higher risk of infection, but proper care and hygiene practices can help you minimize the risk. Removing your contact lenses before you go to sleep is one step in reducing your chance of infection.
Sleep & Contacts Don't Mix
If you doze off with your contacts in, you'll likely find them hard to remove. When you wake up, your eyes can feel dry, and your lenses may feel like they're stuck to your eyes. Using lubricating eye drops can help loosen them and rehydrate your eyes so you can remove the lenses comfortably.
Sleep and contact lenses aren't a good combination, whether it's overnight or for an hour. Sleeping with contact lenses can make you 6 to 8 times more likely to develop an eye infection. You may assume an eye infection is a minor concern, but it can lead to serious complications for your vision and eye health.
What Can Happen if You Sleep with Contact Lenses In?
Sleeping in your contact lenses does more than irritate your eyes—it can lead to possible vision threatening eye infections. These infections can cause significant damage to your cornea resulting in potential vision loss.
Sleeping with your contact lenses may cause several eye infections, including:
Fungal keratitis: Fungal keratitis is a corneal infection typically caused by eye contact with plants or sticks. Sleeping in your contacts increases your risk of this infection.
Bacterial keratitis: Bacterial keratitis is an eye infection caused by bacteria entering the eye. This infection can occur if you wear your contacts too long, including when you're sleeping.
Acanthamoeba keratitis: Acanthamoeba keratitis can develop in contact lens wearers, however, it's a rare condition. It can occur when you rinse your contacts with tap water, swim, or sleep in contact lenses.
Why Can't You Sleep with Contact Lenses In?
Contact lenses can cause infections because they limit your eye's ability to fight bacteria. Contact lenses lower the amount of oxygen and moisture your eyes receive. However, this risk is only there if you wear your lenses for too long.
You can experience hypoxia when you sleep in contact lenses, a state where your eyes don't have enough oxygen. Hypoxia affects how your body's cells can handle bacteria, increasing your risk of infection.
Watch for a Potential Eye Infection
Approximately 30% of contact lens users fall asleep with their contacts in. It's common to feel too tired to remove your lenses after a long day or when you need a nap, but not removing your contact lenses can put your eyes at risk.
Some common symptoms of an eye infection include:
Watery eyes
Red, irritated eyes
Discharge from the eye
Light sensitivity
Blurry vision
Pain around the eyes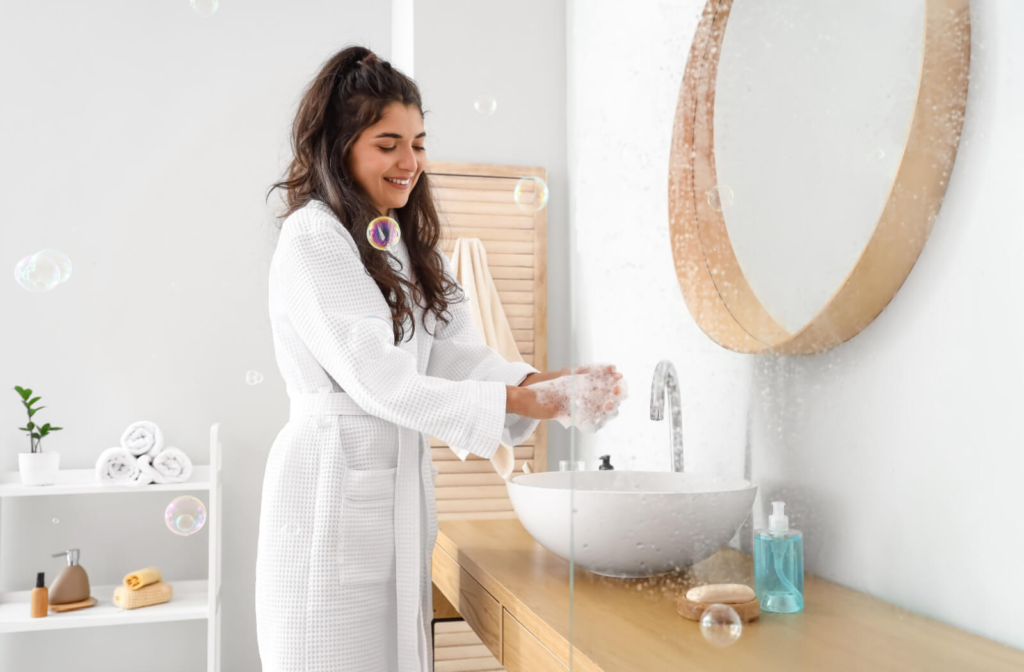 Contact Lens Care Is Essential for Your Eye Health
Sleeping with your contacts isn't the only risk you need to be aware of. Contact lenses can help you see clearly and comfortably, but they're medical devices that require daily maintenance. Proper care protects your eye health and vision from unnecessary complications.
Proper contact lens care includes the following:
Wash your hands before touching or removing your contacts
Replace your contact lens case at least every 3 months
Only rinse and store contact lenses in your contact lens solution
Replace your contact lens solution completely every day
Clean your contact lenses before storing them
Wearing daily disposable contact lenses is the safest option
Contact Lens Risks
Your eyes are at a greater risk of eye infection by wearing contact lenses. An infection can cause irritation and, in more serious cases, potential vision loss. When it comes to contact lenses, there are several risks you must manage.
You can avoid potential problems by following these guidelines:
Don't bathe, shower, or swim with your contacts in
Don't touch your lenses without washing your hands
Never reuse your contact lens solution
Don't wear your contact lenses longer than recommended by your eye doctor
Take Care of Your Contact Lenses
With the complications contact lenses can cause, it's worth investing in your daily routine. Taking care of your contacts can help protect your eye health and vision.
Your eye doctor can recommend the best ways to care for your lenses. They may provide care instructions when you get a new set of contact lenses, but you can always ask additional questions.
Contact us at Whitby Family Eye Care to learn more about proper contact lens care and how we can help if you experience an eye infection.